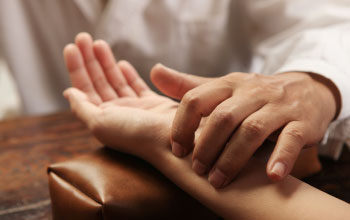 In the past, Chinese physicians are thought to be ignoramuses, unless they can diagnose a case by merely feeling the pulse. If they are called to treat a lady, they usually see nothing but her wrists – thrusted out between the curtains of the bed. The Imperial Doctors were not even allowed to look at, let alone, talk to the Empress and/or the Emperor's concubines during medical consultations and treatments. So, the Chinese Doctors had no choice but to rely on their pulse diagnosis to treat the ladies.
Today, since there is no requirement for extremely limited interaction between opposite genders, the Chinese Doctors were able to incorporate other techniques including tongue diagnosis, abdominal diagnosis, eye diagnosis, auricular diagnosis, etc to diagnose and treat their patients. Nonetheless, Chinese pulse diagnosis is still one of the most respected diagnostic methods in Traditional Chinese Medicine.
Chinese Pulse Diagnosis requires the skills of interpreting the flow of blood in the radial artery at the wrist. In the hands of an expert practitioner, the pulse can reveal anatomical problems such as arthritis, fibromyalgia, insomnia, anxiety, depression, fatigue, chronic and acute pain, urinary tract infections, kidney stones, ovarian cysts, bone spurs, gallstones, varicoceles, sinus infections, gastric or duodenal ulcers, coronary blockages and a host of other physical ailments.
At Acupuncture Center, we have dedicated ourselves to mastering this method of Pulse Diagnosis and have been using this method daily in our treatment protocols.